Welcome to Ivory Garden DID Support Forum

Welcome Guests to Ivory Garden DID Support Forum

Come on in and take a look around.



Ivory Garden Dissociative Identity Disorder Group
is a private community.

Please Apply.

Visit site
Our Goal
OUR GOAL


To provide a unique environment where folks who have experienced trauma can openly and safely talk. We strive to respect, validate, and learn from each other.

ACHIEVING OUR GOAL

Achieving our goal requires cooperative collaboration amongst members and staff. Members posts remain appropriate and relevant to topics. Terms of Service are clearly posted to help members maintain the dignity of the board. Members of this group are at a stage in their healing to independently regulate their own behavior, as well as keeping themselves safe while on the forums. Staff regularly monitor posts and replies to ensure the board remains a safe and comfortable environment of learning for everyone.

As a friendly and kind community, we validate each other as equally special and significant.


These forums are active and the community not too large or too small - about 400 post per day. There are many forums on different topics. The topics range in subject matter also. You are welcome to interact as you feel comfortable.

This is a safe place for members. We encourage building coping skills, learning from each other and material shared. We discourage sharing explicit memories of past abuse. We feel that processing memories be done with professionals. There are no practicing therapists on these forums. Therefore, topics that call for therapist type responses are discouraged.

Feel free to look around. Realize that, as a guest, your view of the forums is minimal. These forums are otherwise private to the public view and/or search engines.

We have literally hundreds of articles and provide workshops for everyone. Please feel free to email me anytime with questions. I am also providing a tutorial that should help with navigating our site.

The very best to you,
Felicity Lee
"owner"
felicity4us2@gmail.com




Welcome to:
Ivory Garden Dissociative Identity Disorder (DID) Support Group and Chat
About IGDID Forum
Since Ivory Garden Support Group (IGDID) opened the forums eleven years ago, new members were immediately aware of how the forum differed from other forums on the web that were exclusively for trauma survivors. Firstly, it was private to outside readers. Secondly, the forums were well-moderated and organized. Thirdly, open discussion was not only encouraged but also, validation and respect within the community was fundamental to creating an environment of trust and compassion. Where other forum owners recruited members for the sake of increasing numbers, rather than providing safety and encouragement, IGDID screened applicants carefully as staff moderated the forums. IGDID has never recruited members or promoted gossip or drama within the community. After eleven years, IGDID remains the only reputable forum exclusively for dissociative disorders, DID, and PTSD.
What IGDID Forum Provides for Members
IGDID is a diverse forum/website offering articles, publications, information, chat rooms, mobile access, messaging, profiles, signatures, private forums, public forums, question and answer formats, private blogs, open chat, webinars, workshops, conferences and more. All members treat each other with respect and validation. There is no drama or trust issues at Ivory Garden. This forum has been successfully running for 11 years. The forum has about 400 active members and some 2000 members semi-active coming and going as they please. There are an average of 400 posts per day. There is no participating criteria. Once you join the forums, you are also a member of Ivory Garden Nonprofit Corporation. Newsletters go out semi-monthly.
Recently, the public forums became available to not only survivors of abuse but also, clinicians, supporters, and anyone interested in the long-term affects of early childhood trauma. The private forums remain available only to survivors of trauma with dissociative disorders. Both public and private forums are subject to Ivory Garden
Terms of Service
and
Privacy Policy.
We appreciate your continued respect for our forums as you visit and participate responsibly.
How IGDID Forum Differs from Social Groups and Other Forums:
If you have not belonged to a forum before, you will discover that not only is the basic structure different but also, the internal management of the forum. Some of the advantages of belonging to IGDID Support Forums are:
Complete Privacy. IGDID is not a part of any other group as is all Facebook Groups, Yuku and many other forums/groups.
Members 'own' their own posts. You will find with most other groups, the server 'owns' your posts which is not the case at IGDID.
Your posts can be deleted and are upon request.
Chat logs are kept internally by IGDID - they are not public or held by any server.
Private mail is private to the community. No one will ever send you personal mail unless they are also a member of IGDID.
Owner and Board of Director members use their real names and provide their private information for members.
Members provide personal information in order to join (only held by owner - see privacy policy). This is done to promote safety for everyone.
Terms of service are not restrictive to online discussion except as posted. Staff does not 'police' the forums, but offers support to all members and other staff.
Drama, trolling, advertising, recruiting, deceptive behavior, mistreating others, bullying, and disrespecting other members is prohibited and reason for immediate banning without hope of return. Staff at IGDID ensures members that once this sort of behavior is reported, consequences will happen quietly and professionally. This helps all members feel safe and aware of expectations.
IGDID gives members the option to publish art, stories, articles, etc. and to promote them on social media.
Newsletters are sent out semi-monthly
Choice of membership: Private Membership, Public Membership, or Anonymous Member.
Who Can Join?
If you are a survivor of trauma and have a dissociative disorder – including dissociative identity disorder (DID) or C-PTSD/PTSD (whether diagnosed or not) and you are over the age of 13 years old, you are welcome to join the private or public forum of this compassionate and active community of folks who openly discuss struggles, successes as well as being a support to each other.
If you are a professional or other supporter and interested in trauma and dissociation, your are welcome to join as a member and access the public forums.
Joining any group online is a life-changing experience – be it positive or negative. IGDID community does its very best to make sure members benefit from their time on the forums long-term.
The public forums are any forums containing the yellow unlocked padlock image. These forums and all posts can be viewed and responded to by all guests and members. If you would like to join, please see the instructions below.
The Question and Answers Public Forum
Open Forums

Private forums cannot be viewed or accessed by any except members of IGDID who have dissociative disorders. The forums are invisible until a member is accepted and given access by an administrator. If you are interested in joining, please see the instructions below.
l
Personal Forums & Blogs
Private Journals
Membership Types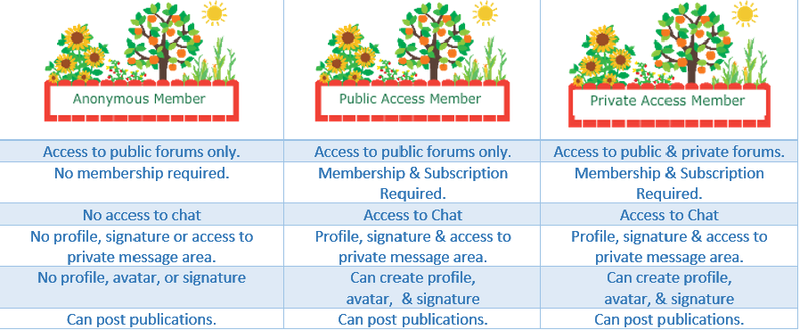 Instructions and Notes to Current & Prospective Members:
Note:
Only 'Private Access Members' are able to view the entire forum. If you are a member and wonder what other members have access to view, simply log out of your account.
If you are a current member of IGDID, you do not need to do anything. You may still post and respond anonymously to public forums by logging out and following instructions for 'Anonymous Members'.
Anonymous Members: To post a new topic in the open forums, click 'new topic', write your post, and click 'send'. To respond to an already written post, click 'reply' and 'send'. You will be asked to provide name (you can put 'anonymous'). Your post will display as 'guest'. Please read and follow 'terms of service'.
Public Access Members:
Anyone can apply for this option, but if you are a survivor of early childhood trauma, you should apply as a Private Access Member in order to access the entire forum. By 'applying' to the forum -
Apply to Forum
, you will only have access to the public forums, but can enjoy the options listed above. You should receive an email from us, after completing the form, letting you know that you will need to 'register' here -
Register
, and finally 'subscribe' here -
Subscribe
. We ask for a donation of $30.00 a year or $5.00 semi-monthly to help us keep the forums running smoothly.
Private Access Members:
All 'Private Access Members' must be survivors of early childhood trauma and have or believe that they have a dissociative disorder and/or PTSD/C-PTSD. First, 'apply' to the forum -
Apply to Forum
. You should receive an email from us, after completing the form, letting you know that you will need to 'register' here -
Register
, and 'subscribe' here -
Subscribe
. We ask for a donation of $30.00 a year or $5.00 semi-monthly -to help us keep the forums running smoothly.
Final Note: Please do not confuse the website with the forum. You do not need to register there, but here on
IGDID - Forum
I hope this information has been helpful to everyone. If you have questions, please contact me.
Felicity (Owner)
Ivory Garden DID Support Group
felicity4us2@gmail.com
Disclaimer:Ivory Garden is a nonprofit, charitable, registered 501(c)(3) organization dba in Washington State. Thank you for supporting Ivory Garden located in Algona. Ivory Garden is registered with Washington State's Charities Program as required by law and additional information is available by calling 800-332-4483 or visiting www.sos.wa.gov/charities. Ivory Garden is also proud to be a provider for CEUs by the Washington Chapter, National Association of Social Workers (NASW) for Licensed Social Workers, Licensed Marriage & Family Therapists and Licensed Mental Health Counselors. Provider number #1975-362. Unless otherwise cited, all written information is under copyright protection. You do not have permission to copy anything in anyway without permission from its author under penalty of law. Reproducing any portion of this site is strictly prohibited, unless otherwise specified in cited material. If not cited, Ivory Garden Org. owns copyright to web design and written material. Pat Goodwin, MA President copyright 2007.